VIRTUAL F2F – Equity of Care ft. Healthcare Systems in Middle East & North Africa
Learning from Healthcare systems in MENA – Equity of Care
8 AM Las Vegas, Pacific Time / 7 PM in Dubai/Abu Dhabi UAE, 6 PM Doha, Qatar, 6 PM Jeddah, Saudi Arabia
MODERATOR:
Mason Van Houweling – CEO, University Medical Center of Southern Nevada, Las Vegas, USA
PANELISTS:
Abu Dhabi : Dr. Abdel Omer, CEO, Burjeel Hospital Abu Dhabi and Foundation Dean for Burjeel Medical City Medical School
Dubai: Dr. Shanila Laiju, CEO, Medicare Hospital Group
Dubai: Dr. Rola Hammoud, President, ACHE MENA
Doha: Dr. Ahmad Zaatari, COO, Military Medical City Hospital (Doha)
Jeddah: : Dr. Fatih Mehmet Gul, CEO, Dr. Soliman Fakeeh Hospital, Fakeeh Care Group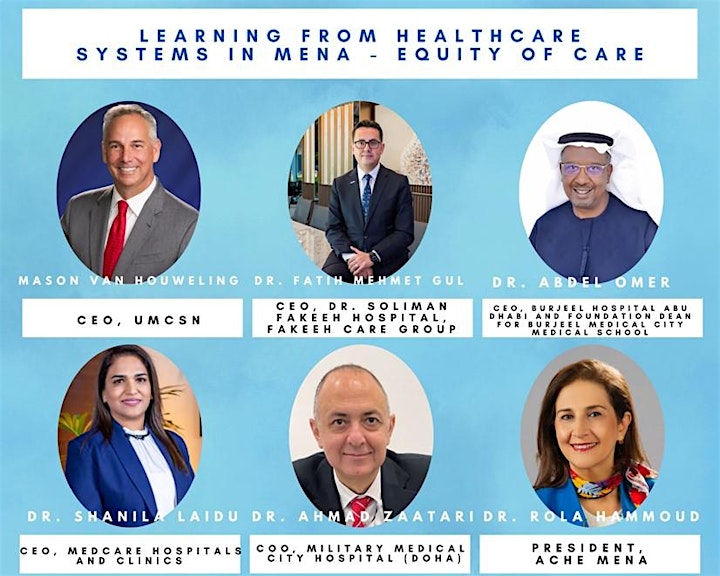 HOW TO REGISTER:
1. Register through EventBrite. ($25 for F2F Credits / FREE for no credits)
2. Complete the additional two-step ACHE registration process by using the Program URL below. This will allow you to gain access to the learning platform for your interactive live virtual session with Face-to-Face credit.
STEP 1 : Follow the registration link below to register on the ACHE platform to have access to the login credentials and credits. (Registration through ACHE is Free). If you are not an ACHE member, you can create an account for Free.
https://account.ache.org/eweb/DynamicPage.aspx?Reg_evt_key=51850bb6-7bf4-4d83-900f-921f064a2284&WebCode=EvtRedirectorTL&site=ACHE
Please make sure that you submit the order and get a confirmation number. Once you complete the online registration through ACHE, you will receive a confirmation email with the subject: Welcome to Your Virtual ACHE Panel Discussion
STEP 2: To be completed two business days prior to the event: (Mark your calendar for the day prior if needed so your registration is complete before the event) Access to the course opens two business days prior to your event at which time you must complete these steps:
Log in to the My ACHE portal and click on My Online Learning, found in the "Helpful Links" menu on the right-hand side of the screen.
Click on the Access Your Courses box to be redirected to ACHE's Learning Management System.
Access the course by clicking on your name on the upper right hand corner and selecting the My Activity tab.
Click on the live event to add it to your calendar. Once you have completed the registration at ACHE.org, you should receive an email from Blue Sky eLearn that will allow you to add the event to your calendar. (Please check your spam of junk email as well)
To join the event, you can either click "Join" in the email from Blue Sky or go back to the course, access the live event, and click the "Join" button there. The session will open up 30 minutes prior to start time. Attendees will be directed to a virtual waiting room until the session begins.
This virtual event will utilize the ACHE Learning Management System (LMS), which will allow learners to access their live interactive sessions via Zoom. ACHE LMS will record attendance, conduct evaluations, and report any earned F2F.